If you own a vehicle in Florida – or any other location where the sun shines – you will find there are significant benefits to adding automotive window film to your car. Window tint film can make a difference in your enjoyment and preservation of your vehicle, as well as safety for you and your passengers.
To ensure the best results of installing auto tint on your vehicle,  have a top quality product made by a trusted manufacturer, such as Xpel, installed by a professional. As an authorized Xpel Window Film installer, High End Detail of Miami can ensure you get the best result from your window tint.
Here's a detailed look at four reasons we suggest Xpel Window Film for your vehicle.
Reason #1: Add Style to Your Vehicle with Xpel Window Film
Xpel Window Film can give your car a sleek and elevated style. Like the perfect pair of sunglasses, window tinting adds a level of sophistication and detail. It also shows that you care about your vehicle's appearance and the investment you've made in it.
With a range of colors, from clear film to darker tints, you can choose the style that meets your needs. If a dark limo tint is not what you are after, consider Xpel. This breakthrough clear film blocks as much or more heat than many darker films while preserving the factory look of your car and allowing you to see clearly and safely.
If you love the high-style look of a dark window tint, you'll want to check out Xpel's Color Stable Series. With a rich appearance and nano-carbon color dispersed throughout the thickness of the film, it reduces glares, blocks harmful rays, and provides lasting performance without changing color, so you won't have to worry about your tint turning purple a few years down the road. Tinted window film also reduces the blinding glare from sunlight, which can improve your vision, keep your focus on driving, and reduce accidents caused by sun blindness.
At a reputable installation shop like High End Detail in Miami, professional staff will be able to guide you on local auto window tinting laws, which vary by state. They'll help you understand how different films will look and perform on your vehicle, and how dark you can go on your windshield, front windows, side windows and rear window within the legal limits.
Reason #2: Improve the Comfort of Your Vehicle
Miami is known for its beautiful, sunny weather. But while that's great at the beach, it isn't great for your car. Car interiors can quickly reach 150 degrees or more on sunny days, making surfaces like metal seatbelt buckles, steering wheels and leather seats too hot to touch.
Heat control window film can help dramatically reduce the temperature inside your vehicle. Xpel Window Film maximizes heat rejection by blocking up to 60% of solar energy and up to 97% of heat-producing infrared rays to keep your car cooler and more comfortable.
Xpel's auto tint also helps your vehicle cool down faster once the AC is on, meaning you get cooler, faster. And let's face it, the less time you spend sweating in a hot vehicle, the better! Learn more about the heat-reducing properties of Xpel window film by reviewing this study on Xpel Crystalline Series car window film.
(Even with window film, never leave passengers or animals in a vehicle without the AC running.)
Reason #3: Increase Privacy and Security with Tinted Window Film
Tinted window film increases the sense of privacy and security you have within your vehicle. Available in different levels that can block up to 95% of visible light, privacy window film protects you and your valuables from prying eyes.
Security window film also adds protection and security by helping to hold glass fragments in place if a window shatters. Xpel security window film, the Scotchshield™ Security Series, is scientifically proven to hold shattered together after impact, helping to slow an intruder and preventing glass shards from damaging people and property. This can provide personal injury protection for you and your passengers during an accident and thwart attempts to break into your vehicle.
In addition, Xpel's non-metallized film does not block cell phone, GPS, or satellite radio reception like some films that contain metallic particles. So your privacy is protected without reducing your ability to connect.
Reason #4: Window Film Adds Protection from UV Rays
According to the Skin Cancer Foundation, 20% of Americans will develop skin cancer by the time they are 70. Sun damage increases with every exposure, and driving or riding in a vehicle can put you and your passengers directly in the sun's rays.
While regular automotive window glass blocks most UVB rays, it doesn't block UVA rays, which are the ones that cause tanning and premature aging.
Xpel Automotive Window Film is recommended by the Skin Cancer Foundation as an effective UV protectant providing up to 1000 SPF. For a high level of UV protection, consider Xpel's Film Ceramic IR Series. This uv window film provides up to 99% UV protection and offers great infrared heat reduction and high solar energy rejection, which reduces the feel of the sun on your skin. In addition, this ceramic window tint provides optical clarity, color stability and no electronic or mobile phone interference, including 5G.
Your car's interior takes a hit from UV rays, too. Surfaces like leather, fabric and plastic absorb UV light, which causes the color to fade and the material to weaken or break down over time. Avoid a faded or cracked dash with window film that reduces the sun's ability to bake your car's interior.
Glare reduction is another important benefit of sun blocking window film. Xpel auto window film reduces up to 93% of the glare from blinding sunlight so that you can see clearly and safely.
Protection that Lasts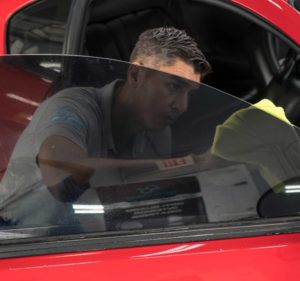 Improve style, comfort, privacy and UV protection with Xpel Window Film. Xpel also protects your investment by offering one the most comprehensive warranties you can get on window film.
Xpel films are durable, designed to last and be virtually maintenance-free. When installed by a professional Xpel Authorized Dealer Installer, like High End Detail, Xpel films are backed by a limited lifetime warranty.
For help selecting the best Xpel window film for your needs and obtain an estimate on professional installation, contact High End Detailing at (786) 370-7838. Learn more at HighEndDetail.com.
If you are outside the Miami/Dade area, Xpel offers an online directory to search for dealer installers near you. But you can be assured, if these products work well in the Miami sun and heat, they'll work anywhere.